Today steel building is not same like it used to be in your great grandfather's time. Technology has made pre-engineered simpler, stronger, safer, and even smarter. Steel building material takes pride in its strength to weight ratio.
Developments in pre-engineered steel buildings
Hi-tech designs
A few years ago, engineering steel structure designs was complicated and laborious. Draftsmen had to create drawings manually for each customized steel package. It included loads of tables and complex mathematical calculations.
Technology has made the design process more accurate and easier with engineering software that rapidly calculates every bearing point, roof slope, bay spacing, weight and loads of every steel framing component. Concise drawings are generated for individual steel framing pieces. This has also made the steel building repairs and retrofitting very easy and possible.
Advanced panels
The production and coatings of steel panels have seen immense development. In the past, steel was covered with corrugated metal panels, which rusted easily. Later, bends introduced in the steel panels enhanced the strength when compared to flat steel sheathing. Some years later, concealed roof fasteners were offered thus creating leak-proof roofs.
Advancement in paint technology included Galvalume, a corrosion resistant alloy. Paint coatings also got upgraded, so a galvanized steel panel received double protection with siliconized polyester paint coating. Another advancement in the steel panels is cool coating. High reflective paint is used to color the panels making them energy efficient in hot climate.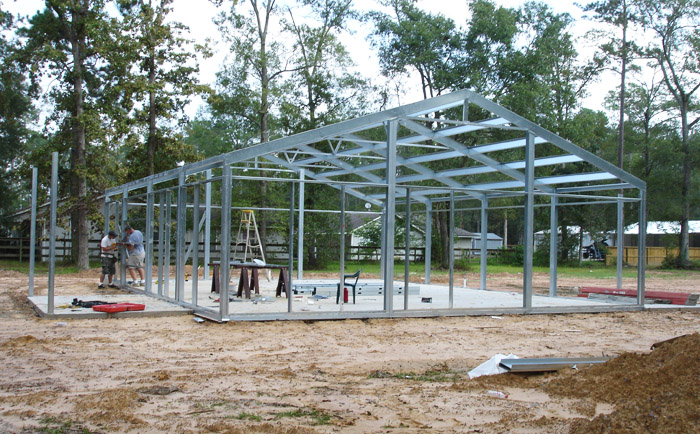 Quick fabrication techniques
In the past, steel building companies offered varied quality, so the customers were always confused whether the metal quality was premium or substandard. Advanced technology and legal requirements have made steel-building fabricators quality conscious. Smart fabricators have introduced their personal quality-control system. A certified steel building kit indicates durable and dependable structure.
Simple framing and erection
Few framing parts are used to build a sturdy structure because steel has great strength. Pre-engineered steel buildings erect significantly faster than wood framing. There is no requirement to measure, cut, and cull. Everything is welded, shaped, cut, drilled, marked, and painted. The framing is all set to be assembled.
Eco-friendly aspects
Steel industry is committedly trying to reduce energy usage and emissions by increasing the recycling rates. The metal building materials are totally recyclable. Today, steel structures are insulated so well that the HVAC bills are cut into half. Steel material is recycled a lot because it retains its original strength every time it gets reprocessed.